You, my dear young friends, shall be my critics: What you find neither affords you amusement nor does you good, I shall think it badly written.
Lydia Maria Child, Juvenile Miscellany,
    Volume 1, Issue 1, September 1826
This is a day of peculiar care for Youth. Christians feel that their children must be trained up for Christ….There are Literary Magazines for youth, which exclude religious topics; and others for mere amusement, whose influence is unfavorable to religion and morals.
Nathaniel Willis, "Prospectus of the Youth's
    Companion," April 16, 1827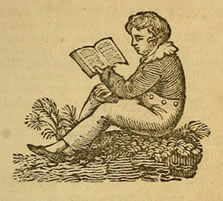 The decades between the American Revolution and the Civil War saw dramatic changes in the way childhood was defined. The growth of the middle class meant that many children had more time for reading and that their parents could afford to buy books and magazines for them. The assumption that children were born evil and needed to be watched and disciplined gave way to more progressive views. Children came to be seen as pliable, in need of gentle guidance and moral instruction. These broad economic and cultural shifts supported a period of expansion in writing for children—much of which happened right here in Boston.
The first secular American monthly magazine for children was published at 81 Court Street and edited by Lydia Maria Child (1802–80), novelist, journalist, reformer, and author of advice books. Her magazine, the Juvenile Miscellany, ran from 1826 to 1834 and boldly announced that it would both instruct and amuse its young readers. In response to Child's lack of an explicitly Christian focus, only months after the Miscellany appeared, Nathaniel Willis (1780–1879) and Asa Rand (1773–1871) began publishing the Youth's Companion just a few blocks away at 127 Washington Street. Willis and Rand insisted that their magazine would go beyond "mere amusement" by giving priority to "articles of a religious character."  Where Child's magazine featured a wide range of stories and characters, as well as amusing illustrations, the Companion offered pious preaching, stern warnings and no pictures. In the competition between these publications, and in the work of other Boston-based writers, American children's literature came of age. 
Though Sarah Josepha Hale (1788–1879) is known as the "editress" of magazines for women, her writing for children should not be forgotten. While in Boston, she began the first "infant school" or modern-day kindergarten to ensure the proper education of her youngest son and to promote the education of other young children as well. This interest in teaching was reflected in her book Poems for Our Children (1830) and in The School Song Book (1834) and The Boys and Girls Library (1842), which she edited. In these works, she strove both to build character and provide entertainment, to temper didacticism with delight.
Both Child's 1844 poem beginning "Over the river and through the woods," and the 1830 poem "Mary's Lamb" by her friend Sarah Hale, caught on because the lessons they taught emerged from charming stories—the first about a family holiday, the second about a loving animal.
In the 1830s and after, other writers based in Boston sought to strike the right balance between moral teaching and entertainment. Better known as an author of adult fiction, Nathaniel Hawthorne (1804–64) wrote several works for children that combined fantasy elements with historical fact. Determined to "revolutionize the whole system of juvenile literature," Hawthorne wrote vivid and imaginative stories based on his sense that "children possess an unestimated sensibility to whatever is deep or high, in imagination or feeling."
Thomas Wentworth Higginson (1832–1911)—minister, abolitionist, writer, and editor—took time in 1849 to write a delightful story called "Birthday in Fairy-Land" for his young niece.
And two writers—Samuel Griswold Goodrich (1793–1860) and Jacob Abbott (1803–79)—realized the immense potential of this new literary audience by creating characters that were popular enough to carry over into numerous books and editions. Goodrich's Peter Parley, an elderly gentleman who entertains groups of rapt children, became so popular that other writers created similar characters.  By 1856, seven million copies of Goodrich's books had been sold and about three hundred thousand volumes were being marketed annually around the world.
A former minister and author of biographies written for adults, Jacob Abbott was determined not to write down to children but to appeal to their intellectual abilities. In the prologue to his first children's book, The Young Christian (1832), he wrote, "It is a great but a very common error, to suppose that merely to simplify diction is the way to gain access to the young." In 1835 here in Boston, Abbott published the first of his wildly successful Rollo books about a headstrong boy who learns through experience. In 1842 Abbott introduced Rollo's cousin Lucy, a strong female protagonist. Both Rollo and Lucy are curious and active whether they are at home or abroad. Rollo, for instance, pursues new experiences throughout the series, like building a traditional Native American wigwam with his friends or saving a baby duckling. Through each activity he increases his awareness of the world around him, and, in the process, both delights and educates Abbott's young readers. Abbott published over two hundred books in his lifetime and became so widely read that one critic wondered whether many "British writers of children's books were more popular [than Abbott] in England."
In 1834, after Child published a controversial antislavery book, the Juvenile Miscellany lost its readership and went out of business. Praised by other writers—including Higginson, Goodrich, and Louisa May Alcott (1832–88)—Child never stopped thinking about the needs of children. But it was the Youth's Companion that endured for over a hundred years, moving to Columbus Avenue in 1892 and continuing to publish until 1929. The success of Willis and Rand's magazine, however, was based not on its original method but on its adoption of the more secular and delightful approach developed in the pages of Child's trendsetting publication, the Juvenile Miscellany.
Read More